To The Associated California Loggers membership,
As your 37th president of our great association, I wanted to take the time to introduce myself and share with all of you my vision for the ACL for the next two years. I will try to make it short and sweet.
I grew up on the same family ranch in Mount Aukum, Ca. as my father, and his father, that my great grandparents settled in 1924. I grew up with two brothers and worked with my Dad and Mom on our family turkey farm and log trucking business until I was about 14. From there I was recruited to work in the woods piling roadside slash for my Dad's logging outfit, J&R Logging. It was there that I found my life's work.
After many years and working through the ranks of our company I came to it's management with eyes open and love for our industry in my heart. When I started with J&R Logging in 1989 we harvested about 1.5mmbf of salvage timber and grew to today where or firm is multi faceted, harvesting more than 35mmbf annually as well as road building, trucking, and site prep operations. If you desire to know more about our company I invite you to visit our website at www.jandrlogginginc.com. I am truly blessed to be married to my beautiful wife Nikki, who I hope you all will get the opportunity to meet. I guarantee that if you do get the opportunity you will come away simply delighted. We have been married for 21 years and enjoy two grown children, Daisy and Lukas. I will wrap up my introduction like this….
1. Christ Jesus runs my life
2. Religious? No. Spiritual? YES!
3. Family First……, but after God
4. Rough and polished
5. Grateful
When I came onto the ACL board some 12 years ago, my goal was to try to have the region where I worked acquire better representation within the ACL. I also desired to learn from the many colleagues that I would soon get to know better. The first, I believe has been achieved.The latter, I have found is ongoing and intriguing. From the many board members that I have served with, to all of you that have been involved with the ACL, everyone is more than special to me. When people outside of our sphere of influence ask about our organization and its members, my reply is always,"they are the Salt of the Earth".
The membership of the Associated California Loggers are, in my mind, the greatest group in the industry. There are many other timber industry groups, all with great intentions, sound policy ideas, and include us in they're efforts, but this membership is where the rubber meets the road. We are the folks that sacrifice so much to bring a valuable commodity to market. Many, if not all of us have forsaken a child's birthday or missed an anniversary only to get that last load out. Or had to get that trouble spot in a haul road fixed for the next day. Maybe it was weekend tire work on a log truck as to not have to do it mid week and lose a load. This group of individuals and families that make up our association are usually a do it yourself type. We are fiercely competitive all the while sympathetic to our competitors' well being.
After pushing the position off for a few years, I am honored and humbled to serve as your president for the next two years. I, along with my vice president Russ Hawkins, we will strive to meet all members needs and positions all the while keeping the mission of the ACL at the forefront of our leadership. I do not foresee any significant changes in how the association is doing things. I do hope to continue where the great leaders that proceeded me have, in fostering relationships with the other important industry associations, bringing awareness to the importance of our part within our great industry, positively representing 'You" with our regulatory agencies, and continue the overall upward trajectory of the professionalism and influence of the Associated California Loggers.
Your President,
I will close with this anecdote. When the world wants to save the ducks, who do they call?……… Most will answer with,……."The Ducks Unlimited," which is the correct answer. The same goes with quail, trout, elk, deer, and so on. The folks of these associations are the "go to groups" entrusted with the stewardship of these species', all the while being the exploiters of the aforementioned species. Isn't this brilliant? We as an association have come a long ways in the eyes of the public as far as perception goes. We are much more trusted in our positions than we were twenty years ago, but much work is to be done. We must toil and push forward with our continued message that we are the stewards of the forest. We are the solution to restoring and maintaining healthy forests in California. If we stay on course we will see the day when if someone is asked, "who do they call when you want to save the forests?' the answer will most assuredly be….."The Associated California Loggers"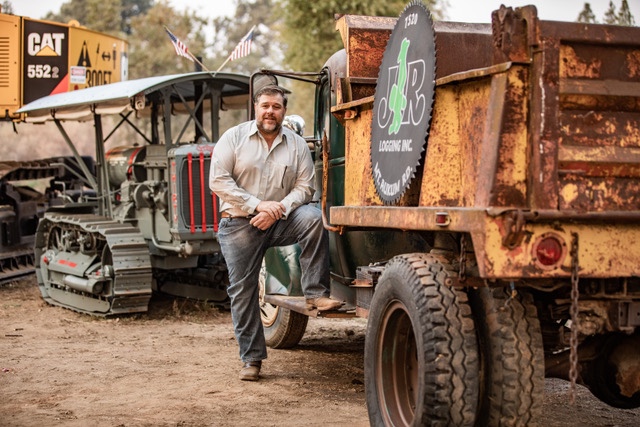 ROBERT D'AGOSTINI